FOR THIS RENOVATION, THEY DITCHED THE SHARK TANK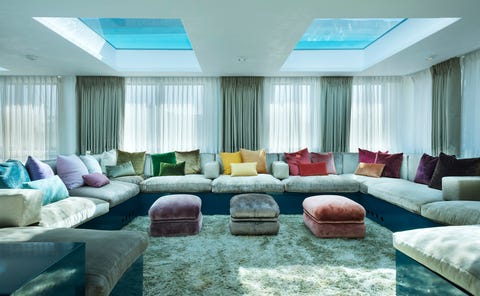 When Alexandra Loew was hired to overhaul the interior of a gargantuan contemporary house in Marina del Rey,
California, she had her work cut out for her.
Designed in 2006 by the late architect Michelle Ertzan, the home had an elegant Le Corbusier–style
facade in white plaster with steel casement windows.
But inside, it was outfitted with a 10,000-gallon shark tank and a glittery basement discotheque, among other extravagances.
The result, as described by the real estate website Curbed, was "an assaulting jumble of bad finishes and weird layout."
Turning this screwy temple of madness into an elegant abode
for her clients—a family of six—was going to be a heavy lift,
but Loew was prepared.
The Los Angeles–based designer trained as an architect at SCI-Arc and UCLA and cut her teeth working for Pritzker Prize winner Thom Mayne's firm Morphosis.
It was a mix of that pedigree and her study of Corbu's
early houses built in and around Paris,
including Ozenfant House and the Villa Savoye, that helped inform her approach on this project.
What was required of her and her collaborator Hope Alexander was nothing short of a full gutting of the interior—shark tank and all.
From her home in Los Angeles,
Loew told ELLE Decor about her vision for this modernist home.
รับออกแบบบ้าน