EVERYTHING IS ON DISPLAY IN THIS GLASS HOUSE
EVERYTHING IS ON DISPLAY IN THIS GLASS HOUSE IN THE HAMPTONS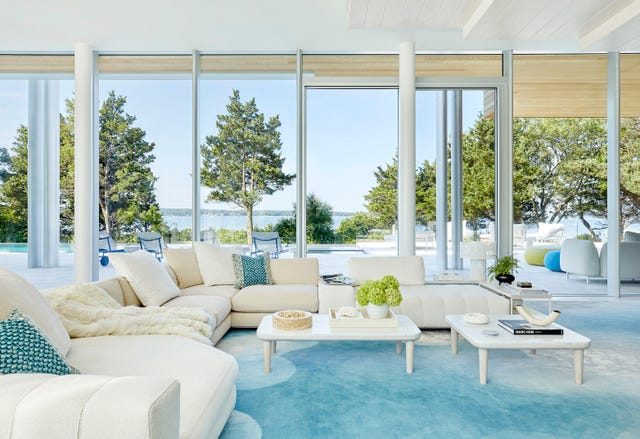 If you are the type of person who chooses to live in a glass house ,
you are doubling down on a lifetime of good interior
 (not to mention tidy quarters).
After all, when the shades are up,
your entire living schema—down to the errant
throw pillows and piles of unread newspapers—is on display.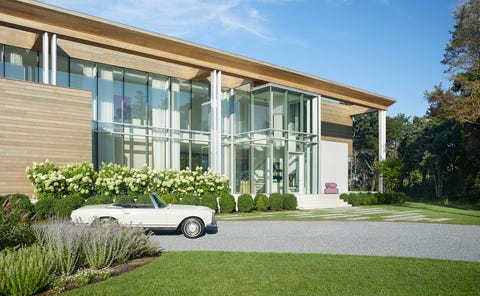 Fortunately, when Howard L.
Michaels, the founder and chairman of the Carlton Group,
a real estate private-equity firm, and Jennifer Bayer Michaels, the founder of JB Consulting Strategies and a former senior adviser to Governor Andrew Cuomo,
decided to tear down a preexisting structure on a plot of land in Sag Harbor, New York,
and erect a contemporary glass house in its place, they already had the design part of their commitment covered.
The couple, who have two young daughters,
had previously worked with the New York–based designer Daun Curry on their prewar
Fifth Avenue residence more than a decade ago. For this newly built vacation home,
they sought a more modern look that could accommodate friends and family with ease.
The main house has seven bedrooms, 11 bathrooms, a gym, a hammam, tennis courts, and two pools;
there is also a three-bedroom, three-bathroom guesthouse with its own pool.
"The home is a family gathering space that needed to be practical,
easy to live in, and beautiful at the same time,"
explains Jennifer, who is currently heading up fundraising for a
New York super PAC for Democratic presidential candidate Joe Biden (her husband passed away in the fall of 2018).
"The interiors needed to have strong
sculptural elements, but they also needed to be highly functional." สถาปนิก